Opinion
What is Horizon: Zero Dawn?
10-Aug-2020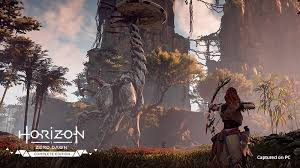 Image Source: Steam
The PlayStation 4 exclusive and hit video-game, Horizon: Zero Dawn, was released in 2017 on the said console. Numerous rumors were around about the arrival of this high-budget console exclusive and it has finally stepped into the PC master race. Normally, Microsoft had the front hand on Xbox-PC releases and this is a big deal for Sony. As of now, the game has already been released on platforms like Steam and Epic Games with the release date 7th August, 2020. With a price tag of $19.99 USD, it is a relatively cheaper game, considering it a re-release.
The game, as expected, looks stunning on PC. After viewing the gameplays of a few streamers and YouTubers, I have found it severely impressive. The graphics, the voice acting and even the little movement details and facial expressions give cue of a job well done. Considering the amount of performance, the specifications required or recommended for a smooth gameplay is not as overkill as expected. An i7 processor of later generations or equivalent Ryzen processors @3.5GHz, 16 gigs of RAM, a GPU of RTX line or units better than GTX 1060, and some 100GB storage can get this game up and running in no time. The game size is 70GB+ so be mindful of that, we don't want a FUP issued by our ISPs, do we? Other than that, this ancient-cum-postmodern themed game can be a real entertainment at times like these.
The reaction to this game from the community has been amazing. Finally, kudos to Guerrilla Gaming for a wonderful game and best wishes for the next game in line for the upcoming PS5, Horizon: Forbidden West.
Total Views: 0