Events
Bhanu Jayanti
13-Jul-2020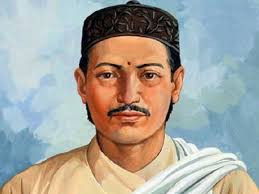 Bhanubhakta Acharya was born in a well known Brahmin family. It is said that he received his education at his home from his grandfather. He was the first Nepali to translate The Hindu epic Ramayana from Sanskrit to Nepali. Before him no person was able to translate Ramayana into any other language. Bhanubhakta Acharya is therefore a Nepali poet, translator and a writer.He was born on 29th of Asar in 1871 B.S in Tanahun district. His birthday is celebrated till today as an honour to his contribution in Nepali literature. Every year, on Asar 29th different programs and seminars are conducted to distribute more knowledge about the Nepali literature.
AdiKavi Bhanubhakta Acharya is a renowned Nepali poet. AdiKavi means the first poet. So, technically he was the first person to write a poem in Nepali script. He wrote his first poem after his encounter with a grasscutter. The conversation with the Grasscutter influenced Bhanubhakta Acharya a lot. The conversation not only sparkled the creativity which was inside him but also encouraged him to do something noble for the society. His first poem was:
भर जन्म घाँसतिर मन दिई धन कमायो
नाम क्यै रहोस पछि भनेर कुवा खनायो
घाँसी दरिद्र घरको तर बुद्धी कस्तो
म भानुभक्त धनी भैकन आज यस्तो
मेरा इनार न त सत्तल पाटी क्यै छन्
जे धन र चीजहरू छन् घरभित्रनै छन्
तेस घाँसीले कसरी आज दिएछ अर्ति
धिक्कर हो मकन बस्नु न राखि किर्ती
Today marks the 207th birth anniversary of the legendary poet. This day is celebrated with great enthusiasm by all the Nepali speaking community living in and out of the nation.
Total Views: 0